Research Areas
International mobility is highly recommended for at least one of the two traineeships.
Research areas
Neuroscience in Bordeaux has grown over the last 20 years to become one of the largest Neuroscience scientific communities in France and in Europe, with over 700 people working in the various Neuroscience laboratories of the University of Bordeaux.
In order to meet the most important challenges facing Neuroscience research, all these laboratories are grouped within a virtual institute, called the Bordeaux Neurocampus, a multidisciplinary consortium of world-renowned scientists (www.bordeaux-neurocampus.fr).
All the fields of modern Neuroscience research are covered in the different laboratories of Bordeaux Neurocampus.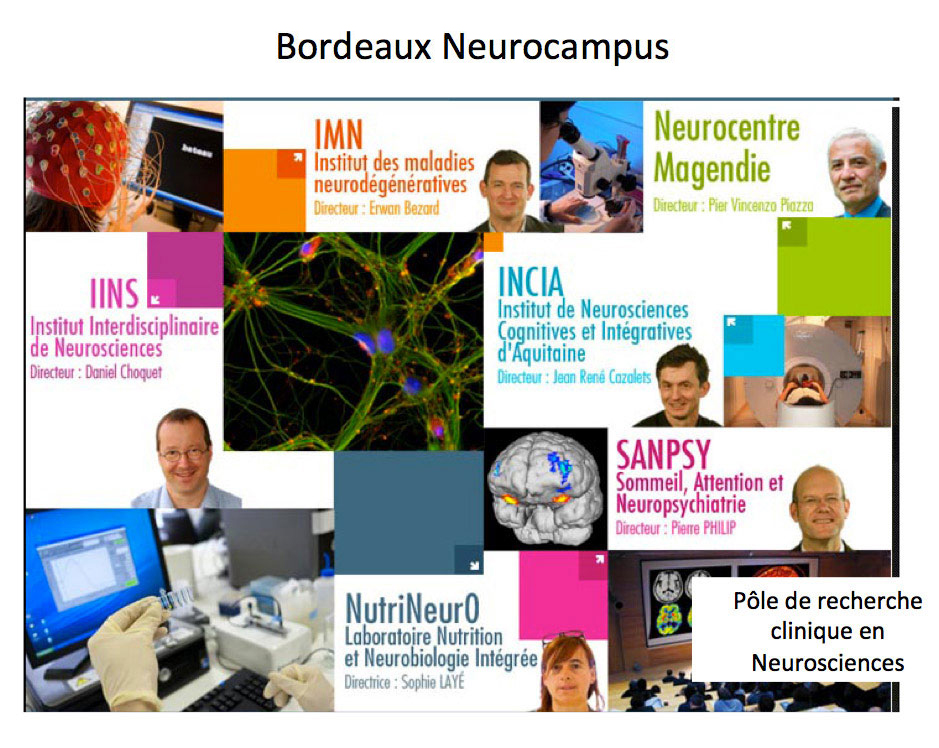 http://www.neurocentre-magendie.fr/index.php?lang=en
http://www.iins.u-bordeaux.fr/?lang=en
http://imn-bordeaux.org/index.php?lang=en
http://www.incia.u-bordeaux1.fr
http://www6.bordeaux-aquitaine.inra.fr/nutrineuro_eng/
http://www.sanpsy.univ-bordeauxsegalen.fr/index.php
In order to establish Bordeaux and the Aquitaine region as a leader in Neuroscience, the Aquitaine Region Government (CRA) and the University of Bordeaux have decided to support and implement the Neurocampus project. The main goal of this project is the creation of a campus entirely dedicated to research on the nervous system and its diseases. This campus gathers, in the same place, the best of the current existing forces in Bordeaux and will allow attracting to Bordeaux a consequential number of new teams. Neurocampus is upon to constitute a major international centre for fundamental, translational and clinical research. Neurocampus also promotes knowledge and technology transfer towards the scientific community and the industry.
In addition, the Neuroscience Community in Bordeaux has been granted the National "LabEx" (Laboratory of Excellence) for the BRAIN project (Bordeaux Region Aquitaine for Neuroscience). This highly competitive award aims to reinforce international attractiveness of French laboratories, by structuring local sites and giving the opportunity to realize very high level scientific projects. Therefore, 24 teams from 5 different institute in Bordeaux received the total amount of 20M€ for 10 years.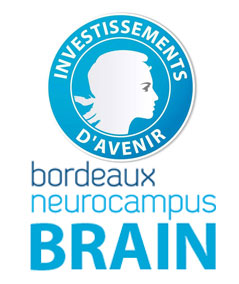 Up-to date technology platforms provide all the necessary tools for modern Neuroscience research in Bordeaux Neurocampus.
http://www.bordeaux-neurocampus.fr/fr/plateformes.html